Urban Mix was my studio in Gardens, on the sunny slopes of Cape Town's city bowl.
The studio was a mid-sized home studio with a control room. a recording suite, lounge, office and restroom. The studio had a basic pro-tools rig, some nice microphones, digital hardware and various other gear. I worked mostly in Pro-Tools and Reason.
The control room had natural light, acoustic treatment and clear sound, making it a relaxed and productive setting.
I even had it 'feng shui'-ed and colour co-ordinated to maximise creative flow.
The view of Table Mountain completed the picture to make Urban Mix a favourite creative space for many in an inspiring location.
I got to meet so many talented musicians over those four years that I will always be grateful to that little studio.
It was unfortunately dismantled it in 2008 when the space became no longer available. Soon after, I moved to the UK.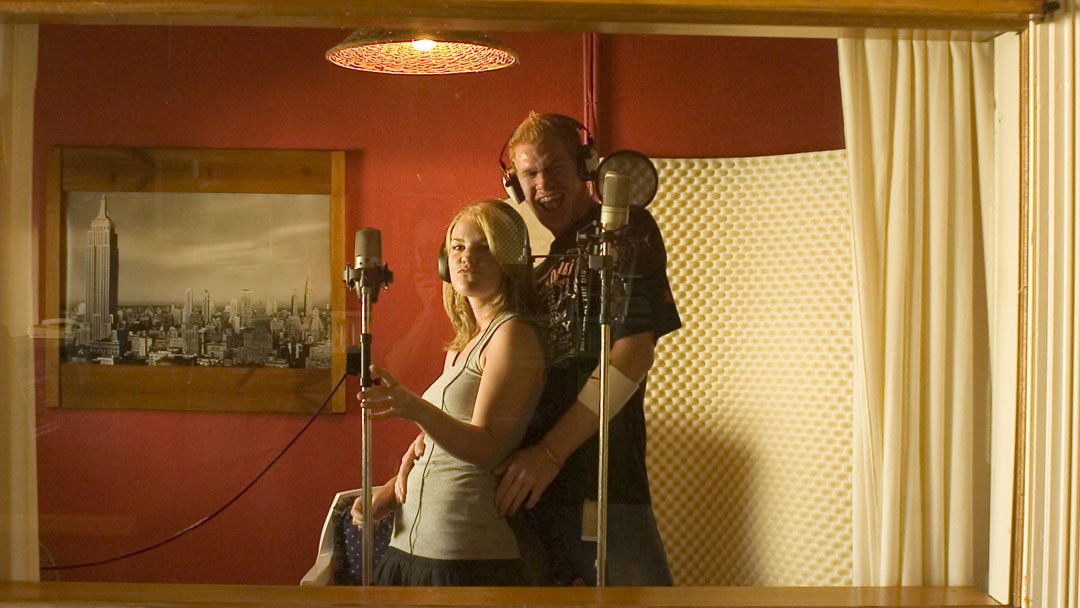 His Latest Flame
Their song 'Blue', recorded at Urban Mix reached #2 on samp3.com's charts. Can't say we're surprised…
Another track, 'Cellophane' recorded at UM, is currently playing on Radio 2000.
Ella Gabriel
Ella won our facebook competition. Her band "The Probematiques' won 8 hours of studio time and came in to record a stunning selection of tracks.
Ntaba And The Stone
Ntaba and the Stone, the talented reggae singer and his band from the townships of Cape Town  produced an impressive demo album at Urban Mix, but there's more to the tale.

Yulin Arendse
An intense emcee spilling some truly sick rhymes, nu age classical rap/rock (think Fort Minor)

PETE WOODBRIDGE
Album featuring Pete on the hang, a unique and soulful percussion instrument.

Gavin Potter
An accomplished musician and great songwriter producing a track with studio vocalist Bronwyn Reddy.

DO Productions
Heavyweight production company recording some voice over for the John Malkovich film 'Disgrace'.
Drum Cafe
Shook the foundations with their epic African drums. The neighbours never knew what hit 'em.

Juan Geel
Dreamy Cafe del Mar-type beats with acoustic guitar and vocals.

RUDIMENTALS
Teboes & Ross McDonald of The Rudimentals have been in studio adding their talents to Ntaba & The Stone's album (see above). The collaborative song 'Buffalo City' is set to feature on the documentary of the same name.
MICHAL HOFFMAN
Super-talented pianist-singer-songwriter recording a demo album.

Displaced People
A four-piece band that I played percussion in, with Mike Kohl, Michal Hoffman and Shane Cooper, recording a full length album.

CANDY SCHLESINGER
Singing her heart out for EMI London.

THE DOGS
A rap/hip-hop group banging out some sick rhymes.
AYATOLA
A master djembe player recording a full length album.

SEROTONIN PRODUCTIONS
Songwriters from Like Honey/Like Fire, recording their original music. They are Lara Cawood, The Little Kings, Craig Alston, Cara Kagan, John Bartmann and Nicky Liddle.
Vivacious Voice
Talented bunch grace us with their smooth voices: Betsie, Jarryd, Lee, Zenzi, Riana, Lunelle, Sonja, Jennifer, Kevin and Munya.

MELLOW SUNSHINE
Some of the best breezy acoustic rock to drink sundowners to.