In the Winter of 1996 we played a gig at a club called Casablanca in Windhoek, Namibia. There were about 7 or 8 people there, including us, two drunk prostitutes, and a barman. It was our first performance and we'd been rehearsing for about 6 weeks.
It all started after two of us had met at one of Namibia's famous parties-in-the-desert on New Years Day of that year. By July we had a full 5 piece band and were gigging regularly.
In a small place like Windhoek, if you make a loud noise for long enough, you start to get noticed. So we spent 3 years cranking our amps and having a blast – playing for friends at endless bush parties. By the end of 1998 it was time for us to leave the nest and we decided to move to Cape Town.
We all moved into a house together and slowly started writing new songs. We recruited an awesome drummer along the way and played a few shows at local venues. More recently we introduced a keyboard player and celebrated the new line-up with a performance in December 2001.
Those 8 years have been spent jamming, writing and practicing, then gigging, raging and rewriting and we've loved every minute of it.
Sadly the group split in 2004 and the members have gone on to bigger and better things. This page is just a reminder of the good times we had.
We hope you enjoy it. We certainly had a blast.
VIDEO – Ghost in the Ceiling
PHOTO BOOK FROm THE NAMIBIAN TOUR 2002
It definitely helped to have designers in the band. Mike DeiCont designed this book from our Namibian Tour.
The Original Member Profiles from 2004
These do not reflect the current views of the members, who are even more depraved now.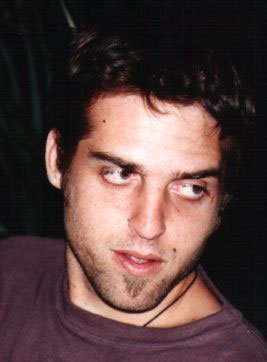 Yves Dei-Cont
Electric Guitar and Backing Vocals
Yves plays: Yves joined the band way back in 1996 and is siblinguishly related to Mike. He has a collection of over 400 toenails which he claims inspire his music.
Yves' guitar is like a hot chilli in the mix with it's immortal solos and big chords. Listen to "All Around the World" and "625" for Yves at his best.
Yves plays: Fender Strat through Marshall Valvestate 100W, Can also be seen flinging a Gold Top Les Paul about
Yeah baby: Bodyboarding, Bundubashing, Nookie
Nooit bru: Pumping for prawns, Traffic, Sharks
Mike Dei-Cont
Bass Guitar and Backing Vocals
Mike has been playing bass for DV since the days of Casablanca. He is Yves' brother.
Hear him playing an insane bass lullaby on "Deliver Me".
Mike plays: Ernie Ball Music Man Stingray 5-String, Trace Elliot AH300-7 Bass Amp
Yeah baby: Sundowners, Bodyboarding, Lenny Kravitz
Nooit bru: Brussel Sprouts, CNN, Perfect waves while I'm at work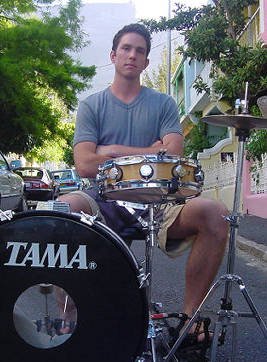 Richie Brodrick
Drums
Richie joined in September of 1999 and added his own powerful rhythmical flavour to the songs. Hear him tearing up on "Marianne" and "Fear of Flying". Rich can also play the piano and the trombone, but he refuses to sing for us.
Richie Plays: Tama Rockstar Drum kits, only Zildjian Cymbals and Head aluminium sticks.
Yeah baby: Pre-Drinks, Live, Massive trout
Nooit bru: Neighbours who always complain, Peanut butter, Warm beer, Sambuca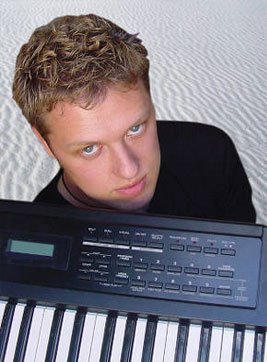 Marcus Bester
Piano and Keyboards, Backing Vocals
Marcus joined Desert Velvet in November 2001, making him the newest velveteer. The keyboards have added a whole new dimension to the band's sound and he ain't no cheesy synth player.
Hear Marcus shine on "The Lonely Bus Driver" and "Big Strong Love".
Marcus plays: …with his girlfriend when not with the band, otherwise a Roland XP-10
Yeah baby: Surfing Scarborough 5/6 ft, Radiohead, Sushi, Free Booze
Nooit bru: Pigeons, Yves' farts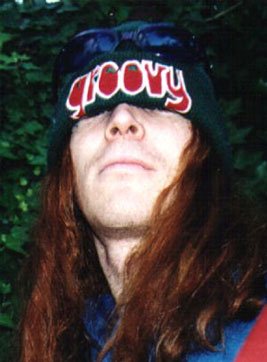 Al Paton
Lead Vocals, Acoustic Guitar, Harmonica, Mandolin, Djembe
Al has been a Velveteer since day one. He writes a lot of the lyrics and strums his guitar a lot too.
Listen to "The Lonely Bus Driver" or "625" for great stuff.
Al plays: Taylor 310, Possible inclusion of a '52 Reissue Tele.
Yeah baby: The Drum Cafe, Propellerheads, Pancho's Chilli Poppers
Nooit bru: Asparagus, Nuclear Warheads, Justin Bergh
They make it hard to stop any foot tapping, head banging or heart pounding.
Better than ever! The band has the right ear for rhythm and melody to effectively capture the attention from beginning to end.
Desert Velvet amazed us all with their professional style of rock.
Desert Velvet once again demonstrated it's song-writing and instrumental talents.
…powerful pop/rock, the songs are well crafted and performed with finesse. Watch out for this band!
The most inventive band on the local rock scene.
A SELECTION OF DEMO COVERS
ARTICLES AND INTERVIEWS IN THE PRESS
They're back, and better than ever! The rock band Desert Velvet, who made their debut in the winter of '96 at the Casablanca Club in Windhoek, have been living in Cape Town for the past four years. On Wednesday evening at the Warehouse, they presented a top class and most professional show – something not seen in Windhoek for a long time. In spite of the small Wednesday night audience, the band obviously enjoyed themselves and delivered a powerful repertoire notable for great melodies, good rhythm and nice lyrics.
The Desert Velvet sound is a mix of rock and folk rock with a touch of punk. Rhythm and melody grab attention from beginning to end. Each song is notable for the fine detail of its structure and words and shows hit potential.
Singer Al Paton, who composes most of Desert Velvet's songs with guitarist Yves Dei-Cont, is a drawcard. He has a beautiful, rich voice and a lively stage presence and can belt out a good drum solo on the djembe.
The band is performing on Friday and Saturday night at the Warehouse Theatre, starting at 21h00, entrance N$35. They will be playing new numbers as well as some hits Windhoek fans will remember from the 90's including "Mice", which earned the band first prize at the 1997 NBC Music Awards. Desert Velvet recently won five days of recording time in London Connection Studios in a South African Stage magazine competition and they will be showcasing these prize-winning songs as well.
The only sad note for Desert Velvet is that they have no album on the market. Only a two-song demo has been recorded at the moment so there is no souvenir of the show to take home. However it is just a matter of time and opportunity before this lively quintet from Cape Town lands a recording contract as they definitely have what it takes.
The review of our performance by Cape Town student website Galcape.co.za

Seeing Desert Velvet play the other day at 206 was an education in South African music. What's this people say about no talent, no presence, no support, no energy? Balls to the walls, ladies and dames. Watch out for this band.
They describe themselves as somewhere between Live and Counting Crows, but I would have to shove a heavy dose of Matchbox 20 and an African fireside jam in there! The songs are tight, varied and full of energy – something poor old underprivileged South African artists need in large doses. They also take the time for one cover (an awesome rendition of an old Deep Purple classic) and a whole bunch of jammin'.
The only things I thought could have been improved were the seriousness of talented drummer, Richie Broderick – crack a smile mate! The cleverly (thank God it wasn't dadadadadad punk) played lead guitar was too soft and… well y'all had better go to www.desertvelvet.com because the lead singer was pretty insistent on it!
It's not often you find a band that gets your feet tapping and head bumping to songs you've never heard before. That's starting to emerge in South African music more and more everyday. Let's hope these guys get lucky and sign up with someone because with a bit more jumping around and some good 'ol slapping on the bongos… these guys could go places.
Make sure you check out their next gig. All the info is on www.desertvelvet.com but then, if you were there, you would have known that, wouldn't you?
From The Namibian October 9, 1998
REINVENTING DESERT VELVET
NAMIBIA'S premier alternative rock fusion band, Desert Velvet, hits the stage at the Warehouse tomorrow night and, since they've been out of the limelight for a year, curiosity and the knowledge of a good party should ensure your seat at the Warehouse.
The break-up of Desert Velvet, notorious for its 'energetic' stage performances, came as quite a blow to rock fans last year. They're back on track, this time however, minus their lead vocalist, Sean Naude.
Citing personal differences for the break-up, the four remaining members, Yves Dei-Cont (guitar), Alistair Paton (guitar and vocals), Hartmut Wenk (drums) and Michael Dei-Cont (base), admit that the break-up has affected their performance "in the sense that it is more music oriented and less people-oriented."
Their time away from the stage has also allowed them to focus on their music. To date they've composed approximately 14 brand new songs, equivalent to a CD release, and feel that the time is right to make it public.
"We don't do snappy tunes", says Yves, explaining that their music is 90 per cent original with about four cover versions and definitely tends towards rock, rock fusion and folk rock fusion.
On the possibility of releasing a CD, the band members feel that, although its probably every musician's dream to cut a CD, the local music industry and the "anti-local" stance of Namibians force this to remain a dream – at least for the time being.
"Right now we are just a bunch of white boys playing music in somebody's garage," comments Hartmut, explaining that although they appeal to a wide age group (between 18 to 40), they stand a better chance of making it big on the European market.
Desert Velvet made newspaper headlines last year when they took first prize in the band section of the 1997 Music Makers competition, replacing the popular Prison Band who, "couldn't make parole for the weekend." With that confidence bolster they've gone on to better things.
The highlight of their live performances was, according to the group, when they performed as supporting act for Springbok Nude Girls in May last year.
"It wasn't easy, especially not when you have to break the ice," explains Yves, but positive feedback from listeners have proven that they're not just amusing themselves on stage.
Their winning recipe? "We work hard, very hard and, well, we actually like each other," Michael injects, commenting on why the majority of the members are still together since the band was formed in 1996.
For those of you who have been wondering what they've been up to since you last bumped into them, catch their performance at the Warehouse tomorrow night. Tickets are available at the door at N$20 and the first 100 patrons get a free tequila.
"Lots of people are keen to hear what we've been up to. They must come and see for themselves. They'll either be blown away or amused," says Yves, as a parting invitation to all rock fans in Namibia.
An interview published in Stage Magazine December 2001
The Interviewer: Alright, so, Desert Velvet, the name? What's it all about?
The Singer: Desert Velvet is a small semi-precious gem that we found one day while strolling in the desert and it looked valuable, so we decided to stop and polish it a bit, and before you know it, BAM, we've got this open-cast pit with a 12X6 conveyer and the works and we've spent five years pumping this rock out of the mountain.
The Interviewer: So exactly what kind of music does this gem make?
The Guitar Player: It plays alternative-acoustic rock, more than a full album's worth of original stuff, maybe in the vein of Counting Crows or Live. At least that's what it says on the label.
The Drummer: And we know how it feels about that label…
The Interviewer: Alright, seriously, so you're a rock band from Namibia and you've got a whole bunch of songs that you seem slightly obsessed with, why should music fans come and see you?
The Singer: So that when someone says to you, "Hey, have you heard of that great new band Desert Velvet," you can say, "Heard of them? I saw them back when they were shit."
The Guitar Player: And you can brag and you'll be great and everything…
The Interviewer: …and really?
The Bass Player: Okay, Desert Velvet has won awards on national TV, we've supported international bands, played festivals and supported a couple of the big SA rock bands. Up there The Namibian newspaper called us "The hottest item on the local music scene".
The Singer: So whaddya say?
The Interviewer: You're making this up!
The Singer: Have a tequila!
On cue the Cuervo girls who have been doing body shots come by and my interview is over.
Desert Velvet relocated to Cape Town 3 years ago and are currently writing and rewriting new material. A growing local fan base means that they are appearing regularly in Cape Town.
The review of our performance by SA Rock Digest
DESERT VELVET LIVE AT THE JAM
Desert Velvet (no relation to Desert Rose or Velvet Mary) played an energetic set to a very enthusiastic crowd at the Jam on Friday night.
Difficult to describe their style, but Prog-punk with touches of Just Jinger style pop-rock might come close (on the other hand, maybe not).
I was already won over by this band's first few songs, but the relationship was cemented when they covered Deep Purple's 'Hush'. Originally written by Joe South and a big hit for Deep Purple in 1968 'Hush' was also a hit for Kula Shaker in the late 90s.
Desert Velvet's closing number featured a percussive section with drummer Richie laying down a groove and Al hitting a Djembe with all his might. Awe-inspiring stuff.
What a trip, huh?
 Desert Velvet was an amazing band and some of the best times of my life.
If you remember the band, or just want to say hi, leave a comment below. We'd love to hear from you!